Have you h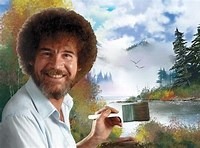 eard of Bob Ross or watched his show on TV and wondered how he makes all those fluffy clouds, happy little trees and the mighty snow mountains?
Laura Webb is a certified Bob Ross Instructor (CRI, CRFI) and has been teaching Bob Ross's wet on wet technique for almost 20 years. Laura will guide you step by step and help you discover your inner artist!
NO EXPERIENCE NEEDED
You will be taking a completed painting home each class.
ALL CLASSES AR CURRENTLY POSTPONED TILL FURTHER NOTICE.